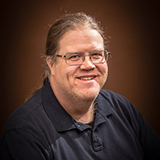 Barry Geipel - Founder Mantid Creative Studios
Barry Geipel was first introduced to computers and writing software on an IMSAI 8080 while attending the Frankfurt International School back in 1978. From that point on, Barry has focused most of his intellectual energy on building software and evangelizing the role of the software engineer.
Barry is a graduate of the University of California, Santa Cruz and holds a Bachelor of Arts degree in Computer and Informational Sciences. Barry has produced software from complex stock market systems to fun video games, and almost everything in between. As a Software Architect at Telelogic, Barry was granted a patent for a System for Active Configuration Management. Barry co-founded Datallegro, which was acquired by Microsoft in 2008.
Barry's latest venture, Mantid Interactive LLC is focused on delivering engaging mobile applications to the consumer and business worlds. Barry believes that the mobile space will be dominated by companies that embrace the premise that software should be fun and even the most serious business applications can benefit from lessons learned in the gaming world.
Barry treats software development as both art and science. He firmly believes good software is written by developers who are passionate about their products, are energized by their workspaces, and are respected by their employers.
Christopher Keaney - Founder Mantid Partner Studios
Christopher Keaney has been creating innovative software solutions for over 20 years. He was introduced to computing at a young age and started his career by demonstrating how technology could be used to achieve major efficiencies in the enterprise.
Chris began developing mobile applications in 1998 and has delivered mobile products and solutions for a wide range of industries. He has driven the development of large scale Software as a Service systems since 2000 and has significant experience leading international software product development.
Chris' latest venture, Mantid Interactive, creates engaging solutions for the most advanced mobile platforms on the planet. Chris is currently immersed in the evolution of mobile computing with specific focus on user experience and strategies for delivering multi-platform mobile products and services.